Experience the breathtaking feeling of floating silently above the Outback as the sun slowly rises over the desert on this awe-inspiring ballooning adventure.
Journey to the launch site in the cool pre dawn darkness and begin the ascent just as the morning light begins to illuminate the rugged MacDonnell Ranges. Float gently across the vast expanse of the Central Australian outback – keeping an eye out for native wildlife including the iconic red kangaroo and gain an appreciation of the remoteness of the area as the balloon glides across the landscape.
Includes
Incredible Hot Air Balloon Ride
30 or 60 minute options
Senior & Child rates available
Views of MacDonnell Ranges
Accommodation Transfers
Professional, accredited guides
Sparkling wine & tropical fruit
Trip length:

30-60 Minutes

Group size:

12

Start:

Alice Springs

End:

Alice Springs
Vehicle:

Hot Air Balloon

Sleep:

None Applicable

Physical Demand:

Comfortlevel:

Pictures / Videos

See Map
Experience the breathtaking feeling of floating silently above the Outback as the sun slowly rises over the desert on this awe-inspiring ballooning adventure.
Starts 4:15am with pick up from your accommodation - Journey to the launch site in the cool pre dawn darkness and begin the ascent just as the morning light begins to illuminate the rugged MacDonnell Ranges. Float gently across the vast expanse of the Central Australian outback – keeping an eye out for native wildlife including the iconic red kangaroo and gain an appreciation of the remoteness of the area as the balloon glides across the landscape.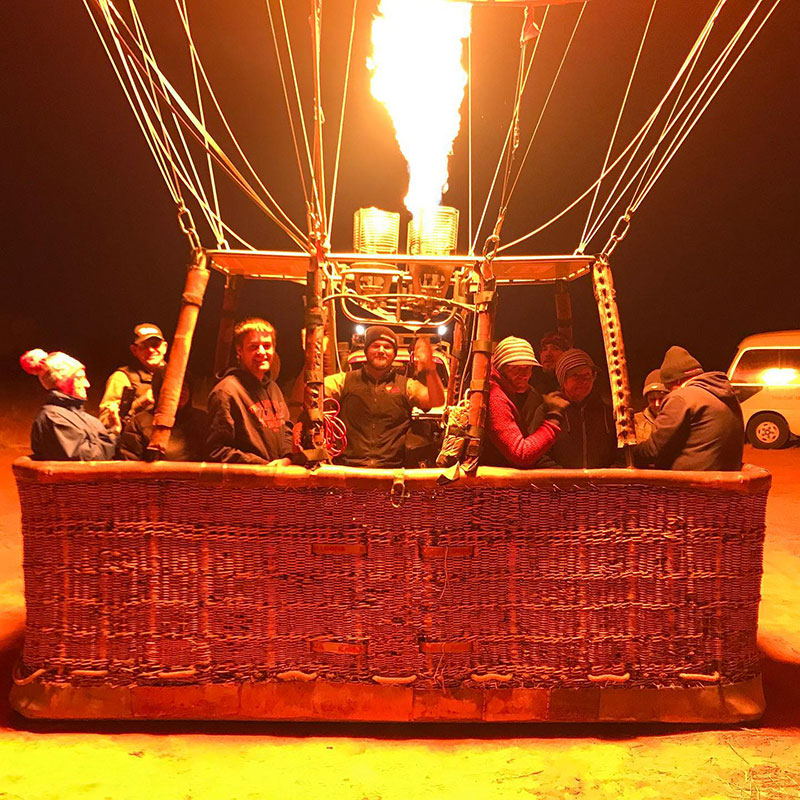 After landing, you may become involved in assisting the crew as they pack the nylon balloon away or you may prefer to take photographs, the choice is yours.
At the ballooning landing site, there is time to enjoy the desert tranquility as light refreshments accompanied by sparkling wine and tropical fruit juice are served. There is an opportunity to purchase ballooning souvenirs and a commemorative flight certificate is given to all participants.
Flight distance will typically be between 10 and 20 kilometres. The balloon flight takes place approximately 15 kilometres to the south of Alice Springs adjacent to the MacDonnell Ranges and over the historic Owen Springs Cattle Station.
Return transfers from all accommodation in Alice Springs is included with every flight. Pick up time is approximately 1 hour before first light at 4:15am – time will be given when booking and exact time will be confirmed when you re-confirm the day prior to flight booked. Transfers (at the end of tour) to the airport or other tours are available on request.
You'll return back to your accommodation approx 8am.
* A mandatory Civil Aviation Authority Insurance is included in the advertised price above. The insurance charge is $30 per person.
Please note: This will show as a separate charge once you commence booking. The price shown on the table at the right is your flight price only and once you click the Book Now button the Insurance Charge will be included and shown separately.
** Children 3-5 years are not recommended but considered on an individual basis. **
*** Depending on many operational factors, which vary each day, passengers may be on the ground or in the balloon when the sun is actually coming over the horizon or rising, either way you will still see an amazing dawn.
We do not operate on Christmas Day, Boxing Day and New Years Day.

See Map
CLOTHING
Comfortable hiking/walking shoes. Sandles are OK.
Warm jacket and long pants depending on weather conditions
Hat and sunglasses
Passengers need to take caution during December/January period where temperaturs in Central Australia can get quite high. Its advised to prepare accordingly. 
TRANSPORT
Air-Conditioned Coach Bus
Hot Air Balloon
MEALS
Sparkling wine and finger food
OTHER
Personal travel insurance is not included but visitors are advised to have it. This can be organized through your travel agent.
Preparing for the trip
Where can I get more information about this trip?
If you find that this tour page doesn't answer all your questions, then please get in contact with us! Our passionate team are always available to answer any queries you may have. 
What should I pack?
Depending on where in Australia you decide to visit, your luggage will vary. For exact information please visit the "What to bring" section of each tour page.
What immunisations do I need?
For the latest information on immunisations, we strongly recommend you or contact the Travellers Medical and Vaccination Centre (www.traveldoctor.com.au) to discuss health requirements for your trip. They will advise you about appropriate inoculations.
Do I need to take any medical supplies?
It is not necessary to bring any medical supplies other than any personal items you may require. Each tour will carry an first aid box and our guides are all certified in First Aid.
How fit do I need to be?
Our tours are made to be fun, informative and active and can be enjoyed by anyone with a moderate degree of fitness and agility. Travellers should be comfortable with hiking/walking up to 5km each day.
Do I need travel insurance?
Insurance is important in protecting visitors from loss or damange of goods, medical problems, cancelation by passengers or other casualties. Its highly recommended.
Some tours on this website require you to have travel insurance. If you are Australian then it is not necessary.
Will I be able to use my mobile whilst on tour?
If you are using Telstra as your mobile service provider than most likely yes! Their coverage of Australia is quite extensive so you shouldn't have too much trouble. 
Private tours and families
Is it possible to travel in a private group?
Definitely! Just choose an existing itinerary or destination and contact us we can help you arrange the trip as a private tour.
If your looking for a customised itinerary we can tailor make a tour to suit your requirement.
Over the years we have worked with families, groups of friends, schools, clubs and charities to put together the perfect trip. Our team can help you decide on destinations best suits your needs and give you additional information on the best time to visit, cultural expectations, weather conditions and so fourth.
Booking the trip
Do I have to book this tour online?
Definitely not. Our website is designed to make is easy and convenient for you to schedule your tour. However we understand sometimes its nice to talk to someone directly. So by all means give us a call and we can organise your trip over the phone.
If I book more than one tour can I get a discount?
Absolutely! If you are booking a tour for more than 1 person, or if you are a single person booking multiple tours then we are happy to offer a discount. Send us an email at info@lostinaustralia.org and let us know what you thinking of doing and we can put together a price for you.
Also, be sure to look out for monthly specials on tours. We often have some great bargains.
How do I know when a tour is available?
You can check the departure dates of tours by using our calendar on the top right hand corner of the tour page. This will tell you what days the tour departs. For availability of seats please contact us directly at info@lostinaustralia.org or call us.
Does the tour price include flights?
No. Tour prices do not include any travel arrangements other than for the duration of the tour itself.
If you need assistance with booking flights or buses our travel team and certainly help - Just ask!
How far in advance do I need to book my tour?
As a rule of thumb we generally say AT LEAST 2 weeks prior to departure, this will usually get you a seat on the date you want. That being said, we cannot guarantee that spaces will be available at the time of your booking so, if you can, book as soon as possible.
Bookings can still be made right up until the departure date of the tour if seats are available. If you know when you'd like to travel, please contact us and we will let you know if you need to book soon or if you have time.
Who travels with us
Is this tour for me?
Our tours are made up of small groups with a range of ages, nationalities and backgrounds. Generally people who travel with us are between 20 and 45, though we also get alot passengers much older onboard - everyone is welcome! On tour we get equally as many males as females and everyone shares an enthusiasm for the out doors, nature, adventure and culture.
Our tours are for those wanting to really explore Australia and its many facets. Whether we are camping by a billabong in Kakadu National Park or sharing a cabin in Tasmania, our travellers want more than just a site seeing tour. They are chasing a hands on experience.
The trips are packed with many highlights and the pace can be fast - although there's always time to chill out, have a cold beer ( or wine! ) and soak up your surroundings.
As always, if in doubt then contact us directly with your concerns.
What type of groups go on these tours?
Onboard our tours there are usually around 5 - 24 people ( depending on the tour and destination ). Lost In Australia's travellers want to explore the country and develop a real sense for the land, nature and its people. We travel in small groups which allows us to get from destination to destination quickly and effortlessly whilst being flexible and free!
Is it ok to travel alone on one of these tours?
We have many travellers jumping onboard our tours by themselves. Those travelling by themselves are very much welcomed and encouraged. During your outback adventure you'll meet new and interesting people and forge relationships that will last a life time.
Those who do travel by themselves will probably be sharing a room with a travelling companion of the same sex, but even if you do get your own room, you won't be charged extra. For camping tours, generally there are enough tents available that you can have your own if you choose to.
For more information please contact us directly.
Is there an age limit?
We get a large range of travellers from all over the world and from a very large age range. We get people of all ages joining these trips; generally our travellers vary between 21 - 45 though we also get many happy travellers in their 60s and 70s. Some tours however have a restriction on children under the age of 16 - 18. This will depend on the destination so please email us for more info.
Cost and Fees
Will I need additional money?
Visitors are advised to bring some cash as ATMs and banks can be few and far between depending on where we are during the trip. Its handy to have some extra cash as we do stop by local shops and cafe.
Do I need to tip our guide?
If you had an amazing time on tour and wish to tip the guide, then that is completely up to you. However, tipping is not customary in Australia and is not at all expected.
Are there any hidden fees I need to know about?
Our tour prices are completely transparent. There are no additional fees involved that are not included in the overall tour price shown. If you wish to do optional activities such as helicopter rides or wildlife safaris, then an extra cost may be needed. However, this will always be made clear at the time of your booking.
Whilst on tour
Can I book extra accommodation for the start and end of the tour?
Definitely - We know Australia inside and out and would be happy to give you good recommodations.
What will the weather be like?
Between the months of April and August Central Australia is quite cold so be sure to bring warm clothing. Temperatures range from about 20c during the day right down to 2c at night.
Between October and March temperature are warm, so light clothing during the day is ok. However, night times can still be quite cool so its wise to bring light winter clothing for extra warm.
Where do I meet the tour?
Our tour guide picks up from all major hotels and hostels. For pick locations in suburban or rural areas please contact us to arrange a meeting point and time.