3 Day Kangaroo Island Camping Adventure
3 Day Kangaroo Island Camping Adventure
This wonderful three-day tour showcases the best of Kangaroo Island, enabling you to get up close and personal with Kangaroo Island's wildlife and enjoying a real aussie camping adventure.
Visit the icons, such as Flinders Chase National Park and Seal Bay. Participate in meaningful conservation work, and citizen science projects and learn about recovery and regeneration after the bushfires. Embark on magical hikes, snorkel in turquoise waters and sleep under billions of stars. Those that prefer a roof over their heads have the option to upgrade and have the best of both worlds!
Includes
3 Days on Kangaroo Island
Knowledgable & Experienced Guide
Air Conditioned Transport
Taxes & Fees
Camp Under the Stars
Rewarding hikes
Tonnes of Wildlife
Swim and Snorkel
See loads of Wildlife
Little Sahara & Remarkable Rocks
Flinders Chase
Admiral's Arch
Fur seal colony at Seal Bay
Trip length:

3 Days

Group size:

Max 20

Start:

Adelaide

End:

Adelaide
Vehicle:

Coach Transport

Sleep:

Camping

Physical Demand:

Comfortlevel:

Pictures / Videos

See Map
Day 1: Adelaide to Kangaroo Island
Today, an early start is required to catch your 6.45am SeaLink bus transfer from Adelaide CBD to the ferry terminal at Cape Jervis.
Board the ferry for a 45-minute cruise to Penneshaw on Kangaroo Island. Your Untamed Escapes Guide will meet you here and give you an overview of the adventure ahead for the next few days.
Hop on board the bus and start exploring Kangaroo Island! Take a scenic coastal drive to Pennington Bay on the island's south coast. With powerful swells rolling in, this beach is famed for its epic surf breaks. Climb the 500 steps to the top of Prospect Hill, the highest point on Kangaroo Island, for rewarding views and to get your bearings.
Next, travel to one of the island's most breathtaking beaches, Emu Bay. Here we will have lunch and time to cool down with a swim in the turquoise waters before weaving our way through a labyrinth of caves and emerging at Stokes Bay. Voted the best beach in Australia in 2023, enjoy some free time to snorkel among the rock pools or just soak up the magical landscape surrounding you.
Visit Kangaroo Island's first cellar-door microbrewery – the perfect place to relax. Come late afternoon, arrive at our eco-campsite at the eastern end of the island where the isolation, ruggedness and beauty are striking.
After dinner, head out on a nocturnal wildlife-spotting adventure. Nighttime is when many of the native animals found on the island are at their most active.
Tonight, roll out your swag underneath the billions of stars of the Milky Way and feel a wonderful connection with nature.
Today we drive approximately 240 km.
Accommodation
Camping or dorm accommodation will be at Pelican Lagoon Lodge. 
Meals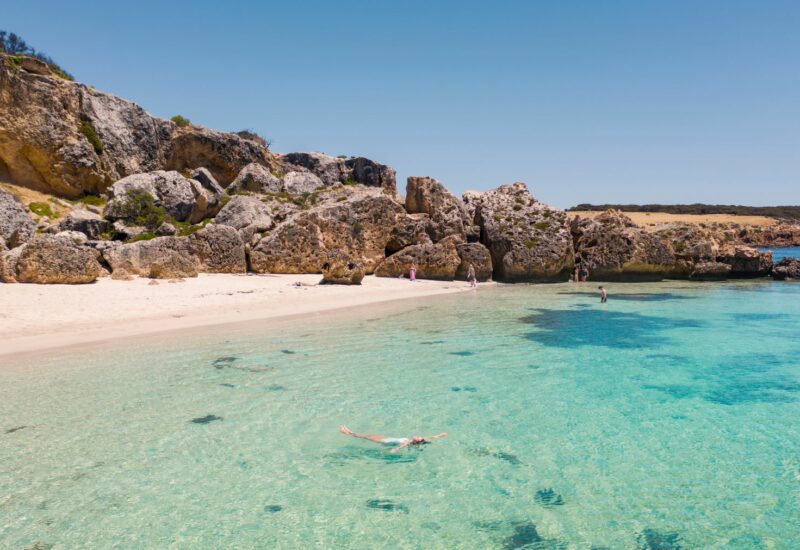 Day 2: Kangaroo Island
After breakfast, we'll set our coordinates for Flinders Chase National Park located at the northwestern point of the island. This park is renowned for its unique and awe-inspiring rock structures, its breathtakingly beautiful beaches, and its abundant and varied wildlife.
At Admirals Arch, wander along a boardwalk as you soak up the serenity and keep your eyes peeled for the resident New Zealand fur seals. Marvel at the iconic Remarkable Rocks, shaped by nature for over 500 million years. Take a bush walk at Weirs Cove before a picnic lunch to refuel.
This afternoon you will have the chance to make your journey meaningful by taking part in a volunteer conservation effort at the Hanson Bay Wildlife Sanctuary. This 2,000-hectare wilderness sanctuary is a haven for native wildlife such as koalas, kangaroos, possums, echidnas, reptiles and birdlife. Like most of Kangaroo Island, it was devastated by the 2020 bushfires and has since become a story of resilience, recovery and regeneration. Our conservation work depends on the time of year but may involve seed collecting, tree planting or counting wildlife.
Next, it's time for an incredible wildlife encounter. Seal Bay is home to the third-largest colony of endangered Australian sea lions, with around 800 calling the bay home. Join a 45-minute tour with the National Parks & Wildlife guides, who know pretty much everything there is to know about these beautiful creatures. Follow a boardwalk through the dunes down to the beach, and on the way, pass sea lions snoozing or even lying in the middle of the beach path and learn about conservation efforts to save this endangered species.
After a full day, head back towards camp to reflect and relax over dinner before rolling out your swag and counting shooting stars.
Today we drive approximately 295 km.
Meals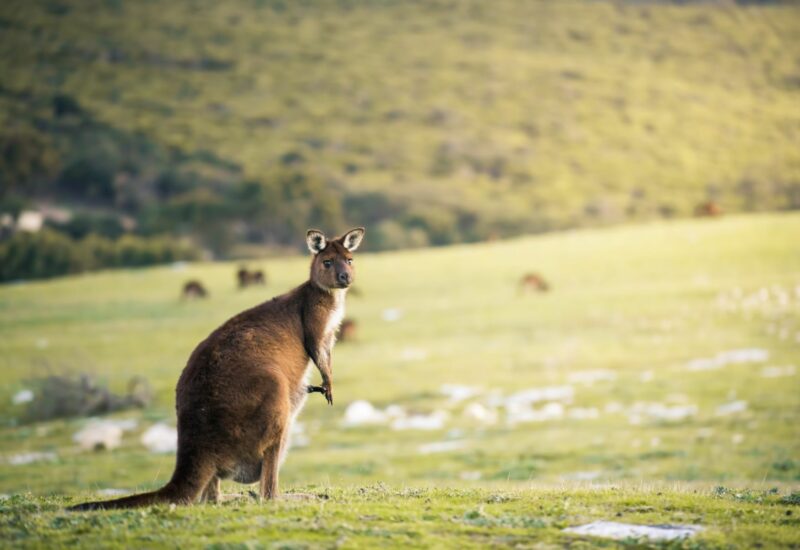 Day 3: Kangaroo Island to Adelaide
It's up early today to pack up camp and take the short drive to Pennshaw for your 8.30 am ferry back to the mainland. But we have time for one last bush walk before farewelling your Guide. Once you arrive in Cape Jervis, your SeaLink bus connection will have you back in Adelaide at 11 am.
Meals

See Map
GENERAL
A moderate fitness level is required, and you need to be prepared for walks between 2-5 kilometres on some days. This may involve rough ground and perhaps getting wet.
Please advise of any special dietary requirements when you book. We offer plenty of variety and do our best to provide fresh products. Snacks, soft drinks and alcohol are not included.
Bags are restricted to 1 × 15 kg backpack/soft travel bag per person, plus one small piece of hand luggage.
As part of our COVID-Safe protocols, all passengers must complete online check-in, including a 'Fit for Travel' self-declaration to confirm they are free from illness. This is mandatory and must be completed at the latest 24 hours before departure.
This tour requires a minimum of eight people to operate. In the unlikely event your departure is cancelled because minimum numbers have not been met, we will transfer all monies paid onto a future departure date. If this is not suitable, we will refund your tour price in full.
ACCOMMODATION & CAMPING
Accommodation is at Pelican Lagoon Lodge. Here you can roll out your swag and camp under the stars in their camping area. Or choose to upgrade to a four-share dorm with shared facilities for two nights at an extra cost of $50 per person. You can add this to your cart on check out.
Those camping will also have access to the lodge kitchen, bathroom and lounge facilities.
In wet weather, all passengers will be upgraded to the lodge at no extra cost. If you paid the $50 upgrade fee when booking, this will be refunded to you. This will be the decision of the Guide.
Planning for our eco-campground is underway, and it will hopefully be ready for guests in 2024. This purpose-built site nestled in lush bushland will feature swag huts, a camp kitchen, firepits, toilets and showers. Therefore the upgrade will only be available until March 2024, as the new site will not have accommodation.
When camping, we use single swags. Swags are 'Aussie Bed Rolls' made from sturdy canvas with a mattress built into the swag. Passengers must provide a sleeping bag and pillow to insert into the swag.
This is a camping tour, and involvement from the passengers is required. This can include helping with meals and packing up camp.
ITINERARY CHANGES
Weather conditions in Australia can change quickly, and our experienced guides will always put the safety of our passengers first and stay abreast of weather conditions.
Itinerary changes may occur to ensure we provide the best possible experience. For example, if wet or cold, your Guide may change the beach and outdoor activities on Day 1 with indoor food and wine experiences such as visiting the Lavender Farm, Island Beehive for honey tasting and False Cape Wine for wine tasting. Any itinerary changes will be communicated to the group in advance.
Camera supplies on Kangaroo Island are limited. Bring plenty of spare batteries for your camera or video recorder, sunscreen, sun hat, comfortable walking shoes and casual/comfortable clothes also a warm top and a rain jacket can be required any time of year. Do not forget personal medication.
Luggage Limits: Luggage limits are 15kg per person as touring is in small 4WDs. This will require 'packing down' to one smaller bag per person. When this is necessary, excess luggage can be stored at your Adelaide accommodation.
Accommodation – 2 nights swag camping with facilities (Option to upgrade to shared lodge accommodation for $50pp)
Return ferry Adelaide to Kangaroo Island 
Return SeaLink bus connection from Adelaide to Cape Jervis 
All activities and experiences 
Meals as listed (2 breakfasts, 2 lunches and 2 dinners)
All National Park and entrance fees 
Storyteller Guide
Air-conditioned vehicle
Preparing for the trip
Where can I get more information about this trip?
If you find that this tour page doesn't answer all your questions, then please get in contact with us! Our passionate team are always available to answer any queries you may have. 
What should I pack?
Depending on where in Australia you decide to visit, your luggage will vary. For exact information please visit the "What to bring" section of each tour page.
What immunisations do I need?
For the latest information on immunisations, we strongly recommend you or contact the Travellers Medical and Vaccination Centre (www.traveldoctor.com.au) to discuss health requirements for your trip. They will advise you about appropriate inoculations.
Do I need to take any medical supplies?
It is not necessary to bring any medical supplies other than any personal items you may require. Each tour will carry an first aid box and our guides are all certified in First Aid.
How much luggage can I take?
You may bring a backpack and suitcases and it will be stored securely in our trailer or under the bus during the trip. We recommend bring a smaller day pack to store your daily essentials such as drinks, jackets and sunscreen while on tour.
Will I be able to do any laundry whilst on tour?
Generally you will not have enough time to do laundry whilst on tour. You will be having far too much fun! However, for longer tours heading towards Adelaide involving hostel style accommodation you may have the opportunity to wash your clothes if really need. Please enquire by contact us directly via email or phone.
How fit do I need to be?
Our tours are made to be fun, informative and active and can be enjoyed by anyone with a moderate degree of fitness and agility. Travellers should be comfortable with hiking/walking up to 5km each day.
Do I need travel insurance?
Insurance is important in protecting visitors from loss or damange of goods, medical problems, cancelation by passengers or other casualties. Its highly recommended.
Some tours on this website require you to have travel insurance. If you are Australian then it is not necessary.
Can I get online whilst travelling?
For tours incorporating hostel/hotel style accommodation you may have the opportunity to use wireless internet or use of nearby internet cafe.
This will vary from tour to tour so please contact us directly for more accurate information.
For camping tours internet will not be available.
Will I be able to use my mobile whilst on tour?
If you are using Telstra as your mobile service provider than most likely yes! Their coverage of Australia is quite extensive so you shouldn't have too much trouble. 
Private tours and families
Is it possible to travel in a private group?
Definitely! Just choose an existing itinerary or destination and contact us we can help you arrange the trip as a private tour.
If your looking for a customised itinerary we can tailor make a tour to suit your requirement.
Over the years we have worked with families, groups of friends, schools, clubs and charities to put together the perfect trip. Our team can help you decide on destinations best suits your needs and give you additional information on the best time to visit, cultural expectations, weather conditions and so fourth.
Booking the trip
Do I have to book this tour online?
Definitely not. Our website is designed to make is easy and convenient for you to schedule your tour. However we understand sometimes its nice to talk to someone directly. So by all means give us a call and we can organise your trip over the phone.
If I book more than one tour can I get a discount?
Absolutely! If you are booking a tour for more than 1 person, or if you are a single person booking multiple tours then we are happy to offer a discount. Send us an email at info@lostinaustralia.org and let us know what you thinking of doing and we can put together a price for you.
Also, be sure to look out for monthly specials on tours. We often have some great bargains.
How do I know when a tour is available?
You can check the departure dates of tours by using our calendar on the top right hand corner of the tour page. This will tell you what days the tour departs. For availability of seats please contact us directly at info@lostinaustralia.org or call us.
Can I just do a section of this tour and not the whole trip?
Unfortunately it is not possible to only do a part of the tour. Passengers generally need to stay with the tour from start to finish.
However, drop off locations at the end of the tour made me negotiated.
Does the tour price include flights?
No. Tour prices do not include any travel arrangements other than for the duration of the tour itself.
If you need assistance with booking flights or buses our travel team and certainly help - Just ask!
How far in advance do I need to book my tour?
As a rule of thumb we generally say AT LEAST 2 weeks prior to departure, this will usually get you a seat on the date you want. That being said, we cannot guarantee that spaces will be available at the time of your booking so, if you can, book as soon as possible.
Bookings can still be made right up until the departure date of the tour if seats are available. If you know when you'd like to travel, please contact us and we will let you know if you need to book soon or if you have time.
If I make a deposit only, when will I need to pay the balance?
Balance on tours need to be paid at least 30 days prior to departure. Failure to do so could result is the cancellation of your seat with a fee charged. If you need more time to clear your balance then let us know ASAP and arrangements can be made.
Who travels with us
Is it ok to travel alone on one of these tours?
We have many travellers jumping onboard our tours by themselves. Those travelling by themselves are very much welcomed and encouraged. During your outback adventure you'll meet new and interesting people and forge relationships that will last a life time.
Those who do travel by themselves will probably be sharing a room with a travelling companion of the same sex, but even if you do get your own room, you won't be charged extra. For camping tours, generally there are enough tents available that you can have your own if you choose to.
For more information please contact us directly.
How many people will be on tour?
Group sizes vary from tour to tour. You can find the size of your group by checking out information at the top right hand corner of the tour page. Group sizes range of 5 - 24 people.
Is there an age limit?
We get a large range of travellers from all over the world and from a very large age range. We get people of all ages joining these trips; generally our travellers vary between 21 - 45 though we also get many happy travellers in their 60s and 70s. Some tours however have a restriction on children under the age of 16 - 18. This will depend on the destination so please email us for more info.
Do I need to be able to swim?
Not really. The centre of Australia is quite dry and there is very few places where we are allowed to swim. However, for tours heading upwards towards Darwin there may be areas for swimming. If you aren't able to swim then you don't need to go into the water. In many cases there may be shallow areas when you can still get wet without having to actually swim. Please contact us for more information.
Cost and Fees
What does "Paid Locally" mean?
Some tours require you to pay national park fees directly, in cash, to the tour guide on the morning of departure. Rest assured this will be subtracted from the tour price when reserving your tour.
Will I need additional money?
Visitors are advised to bring some cash as ATMs and banks can be few and far between depending on where we are during the trip. Its handy to have some extra cash as we do stop by local shops and cafe.
Do I need to tip our guide?
If you had an amazing time on tour and wish to tip the guide, then that is completely up to you. However, tipping is not customary in Australia and is not at all expected.
Are there any hidden fees I need to know about?
Our tour prices are completely transparent. There are no additional fees involved that are not included in the overall tour price shown. If you wish to do optional activities such as helicopter rides or wildlife safaris, then an extra cost may be needed. However, this will always be made clear at the time of your booking.
Whilst on tour
Can you cater of special diets?
We can certain cater for most dietary needs. Please advise us at the time of your booking so arrangements can be made. For travellers with more extreme diets we may ask that you bring along additional snacks.
Can I book extra accommodation for the start and end of the tour?
Definitely - We know Australia inside and out and would be happy to give you good recommodations.
Where do I meet the tour?
Our tour guide picks up from all major hotels and hostels. For pick locations in suburban or rural areas please contact us to arrange a meeting point and time.